---
Dieters Drink Bedida Dietetica Tea.
Dieters Drink Tea for lose weight.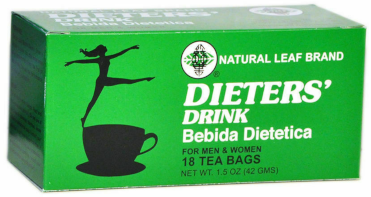 Dieters Drink Bedida Dietetica Tea.
Weight loss tea
In Stock
£5.99
Product description
Dieters Drink Bedida Dietetica Weight loss Tea
Dieters Drink
Hunger is natural sensation and we eat to curb that sensation.
Trying to lose weight by reducing food intake or curbing one's appetite with harmful drugs is not a proper solution.

Natural Leaf Brand Dieters Drink is a guaranteed 100% natural herbal beverage which enables you to keep fit without dieting.
For Example: You can have regular meals and yet lose weight at the same time.
Other popular uses are for abdominal distention and habitual constipation.
How does Natural Leaf Brand Dieters Drink Work

Food such as ice cream, fried chicken, butter, steak and cake may have excessive fat deposits. The Natural Leaf Brand Dieters Drink can be effective in removing excessive fat deposits in the body by causing extra bowel movements.
Direction
Use a fresh tea bag each time.
Brew the bag in a cup of two to five minutes, The cup must be warm to drink (honey may be added to sweeten the taste).
One tea bag per day is recommended for maintaining weight.
Reduce to one cup per day when you have returned to your preferred weight.
Ingredient
Senna Leaf.
Caution
Not suitable for Pregnant woman, nursing mothers and children.
Keep out of reach of children.
Storage
Store in a dry, ventilating place with normal temperature.
Specification
18 Tea Bags
Customer reviews
Hi , I have been taking this product for a long time now and it's works well. I drink it at night and cleans my stomach .Great product.
- Verified Customer
---
Submit a Review