---
---
Super Dragon 6000 Delay Spray for men
Premature ejaculation Delay Spray for Men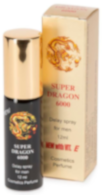 Super dragon 6000 delay spray for men 12ML
Premature ejaculation delay spray for Men
In Stock
£12.50
Product description
Super Dragon 6000 delay spray for men (12ml)
Super Dragon 6000 is a desensitising spray to help men with premature ejaculation problem. Super Dragon Delay 6000 is absorbed into the skin resulting in a sensation that increases sexual pleasure.
Suitable for all men who suffer from premature ejaculation, numbing spray for external use.

Direction
Spray a thin layer on the gland 5 to 20 minutes before bed, do not use more, just a thin layer will give you most satisfaction and a longer lasting, Super Dragon 6000 delay spray decreases the sensitivity to allow slower arousal allowing for a longer sexual activity, combination of the herbal ingredients in Delay solution stimulate men's sexual organ and having prolonged erection.

Try each time to find out the suitable application for yourself, we strongly recommend wash thoroughly before relationship.

Main Ingredients
Lidocaine 10%, Vitamin E
Caution
Avoid solution from contacting the eyes or mouth. Never drink the solution nor apply excessively. Discontinue use if irritation develops. Keep out of reach of children.
Storage
Keep cool and dry place.
Specification
12ml Spray
Note:
Please do write to us about this product, this will help everyone who has been suffering from Premature Ejaculation.
Customer reviews
Fantastic
- Verified Customer
---
It works very well
- Verified Customer
---
works amazingly...
- Verified Customer
---
Works really well
- Verified Customer
---
Submit a Review