Moringa Tea
Nourishing Moringa Tea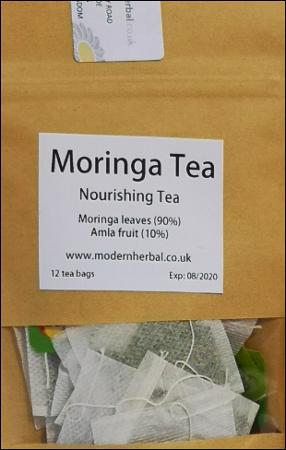 Moringa tea
Moringa tea is a natural health booster, caffeine-free and Antioxidant tea.
In Stock

6 tea bags

£1.75

12 tea bags

£3.50
Product description
Moringa Tea
Moringa tea is a natural health booster, caffeine-free and Antioxidant tea.
Moringa leaves relinquish a wealth of nutrients into the hot water, making a refreshing and flavourful tea,Moringa tea provides nourishment for the entire body.

Naturally nutritive Moringa(Drumstick) leaves (Moringa oleifera) in this infusion along with Amla give a great profile that truly helps your body. Moringa has been traditionally used to combat malnutrition among infants and nursing mothers, making it an incredibly nutritious addition to your life.
Enjoy this herbal infusion and boost your familys health.
Direction
Place tea bag in a tea cup
Pour 120ml freshly boiled water into the cup
leave it to infuse for 3 to 5 minutes
Serve hot
Enjoy twice a day

Main Ingredients
Moringa leaves (90%) & Amla fruit (10%)
Storage
Store in a dry, ventilating place with normal temperature.
Specification
25 Tea Bags of 1.5g each
In Stock

6 tea bags

£1.75

12 tea bags

£3.50
Customer reviews
---
Submit a Review