Lemon and Ginger Tea
Zesty Starter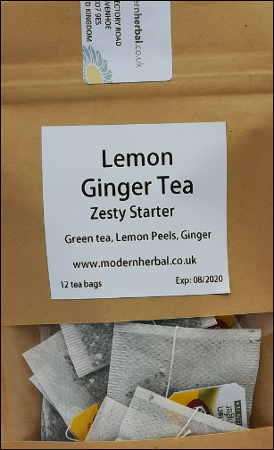 Green tea, Lemon Peels, Ginger
Lemon and Ginger - Zesty Starter Tea
In Stock

6 tea bags

£1.75

12 tea bags

£3.50
Product description
Lemon and Ginger - Zesty Starter Tea
Lemon and Ginger tea bag contains dehydrated Lemon and Ginger, not only does have antioxidant properties, but also the benefits of being refreshing, revitalizing and the ability to aid digestion.
It acts as a catalyst to detoxify your body and restores you to take on every day, as it comes relish the taste of rejuvenation.
Direction
Place tea bag in a tea cup
Pour 120ml freshly boiled water into the cup
leave it to infuse for 3 to 5 minutes
Serve hot
Enjoy twice a day

Main Ingredients
Green tea, Lemon Peels, Ginger
Storage
Store in a dry, ventilating place with normal temperature.
Specification
25 Tea Bags of 1.5g each
In Stock

6 tea bags

£1.75

12 tea bags

£3.50
Customer reviews
---
Submit a Review