---
Piao Yi Tea
Piao Yi Tea for body shape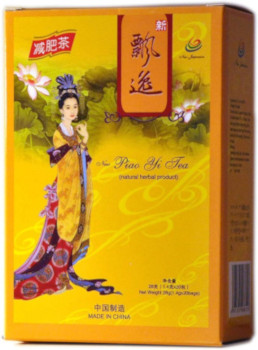 Piao Yi Slimming Tea
Body Shape Slimming Tea
In Stock
£6.99
Product description
Piao Yi Slimming Tea
Piao Yi Slimming Tea
Tranlated from Chinese Text: The newly-produced first beauty of the four great beauties in ancient China, Shih Tzu, kept her body shape and asked the Royal Medical Specialist to formulate a tea containing lotus leaves. Traditional Chinese medicine has said that lotus leaves can be used. The new elegant Piao Yi slimming tea is made of lotus leaf as the main raw material, and is made of high-quality health-care slimming tea processed by using modern advanced production equipment and unique production technology. The tea is peaceful and can be used for a long time, and can receive the expected body building effect.
Dosage & Usage
One tea bag is soaked in approx 150ml of boiled water for 5 to 10 minutes.
Take one bag at night at beginning, after a week apply one tea bag in the morning and one in the evening.
One course is 45 days.
Main Ingredients
Tuo Tea.
Caution
Not suitable for Pregnant woman.
Keep out of reach of children.
Storage
Keep it in cool,dry and ventilating place , avoid exposure to sunshine.
Specification
1.4g X 20 tea bags X 2 boxes
Customer reviews
Yes would recommend Piao Yi Tea, it works for me so well, I was 90 kg. Now I am 65 kg everyone asking me how its possible.
- Verified Customer
---
Submit a Review