---
Premature ejaculation delay Spray for Men
Pink Point Massage Oil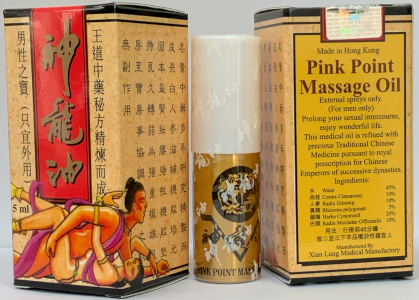 Pink Point Massage Oil (Spray) - 5ML
Premature ejaculation cure for Men
In Stock
£12.50
Product description
Pink Point Massage Oil (Spray)
Prolong your sexual intercourse, enjoy wonderful life.This herbal medical oil is refined with precious Traditional Chinese Medicine pursuant to royal prescription for Chinese Emperors of successive dynasties.
Suitable for all men who suffer from premature ejaculation

Direction
To spray on the head skin of the organ about 45 to 60 minutes before the sexual intercourse.
Just to spray around the head of the organ, it will soon be turning weakness to strength.
Do not over use, you will then enjoy your wonderful life forever.

Try each time to find out the suitable application for yourself, we strongly recommend wash thoroughly before relationship.


Main Ingredients
Water 45%, Cortex Cinnamomi 10%, Radix Ginseng 10%, Rhizoma Polygonati 5%, Herbal Cynomorii 20%. Radix Morindae Officinal 10%
Caution
For External use only.
The efficacy will not abate even if taking a bath is conducted 45 minutes following such application.
Avoid solution from contacting the eyes or mouth. Never drink the solution nor apply excessively. Discontinue use if irritation develops. Keep out of reach of children.
Adaptation
For general weakness of muscle tone, impotency, premature ejaculation and nocturnal organelle spasm. controlled and occasional usage is recommended.
Characteristic of lotion
Acts basically on male organ by improving muscular tone of the organ as well as pro-longing the sexual intercourse period, keeping strong sexual action for long lasting.
It can resist the infection venereal disease and it is colourless and non-toxic.
Storage
Keep cool and dry place.
Specification
5ml bottle (spray)
Note:
Please do write to us about this product, this will help everyone who has been suffering from Premature Ejaculation.
Customer reviews
Pink Point Spray is a wonderful delay pray, I used this delay spray in the evening 2 or 3 sprays on penis around head and neck of the head and 2 sprays on the penis shaft - I did not feel any sensation for about 30 minutes, then it was bit of burning but felt very good and confident that it will work on that night, after few hours, I washed with cold water (shower) and went to bed, it was amazing feeling and control, I lasted longer than usual and my partner was very happy. I would strongly recommend Pink Point Spray men delay solution, not sure why is called oil though, my suggestion is to start with few sprays only as its very strong, you can always increase next time - but apply few hours earlier and wash before sex.
- Verified Customer
---

Je voudrais de l'acheter mais je le trouve pas
- Verified Customer
---

---
It good
- Verified Customer
---
Submit a Review