---
---
China Brush Delay Solution
Premature ejaculation cure for Men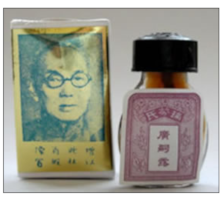 New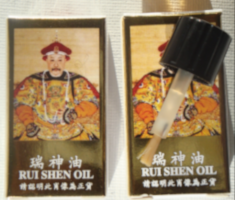 Rui Shen Oil - 3ML
Premature ejaculation cure for Men
(China Brush Delay Solution is out of stock at present.)
Buy Rui Shen Oil 3ml for the same price.
In Stock
£12.50
Product description
China Brush Solution and Rui Shen Oil
Both Chinese Brush Solution and Rui Shen Oil are designed to reduce sensitivity; this helps men to perform longer.

Rui Shen Oil and China Brush Delay Solution (also called SUIFAN'S KWANG TZE SOLUTION) is a rich blend of Chinese herbs combined to create an amazingly potent premature ejaculation remedy. Men have been using this product in Asia for years to prolong their erections and increase sexual activity and vitality.
Direction
Apply a thin layer of this solution/oil on the gland one to two hours before, do not use more, just a thin layer will give you most satisfaction and a longer lasting, every men are different, so try each time to find out the suitable application for yourself, we strongly recommend wash thoroughly after one or two hours before relationship.

Note: after few minutes of application, you will experience a burning sensation, this should go away after some time, and this is the reason why you should always try a small thin layer first.
Main Ingredients

Caution
Avoid solution from contacting the eyes or mouth. Never drink the solution nor apply excessively. Discontinue use if irritation develops. Keep out of reach of children.
Storage
Keep cool and dry place.
Specification
3ml bottle with a brush.
Customer reviews
It was upsetting to have premature ejaculation, having experienced this PE issue for some time, have used many sprayers, desensitise cream, balm and oil, each one worked differently, but China brush solution works differently, without total de- sensitivity, it helped me to stay longer. When I first used it was little bit of burning for few good 10 to 20 minutes, then I washed thoroughly, over period of time I adjusted to this PE cure solution. I have been using china brush solution for the last one year, due to unavailability of this product I bought Rui Shen Oil, it exactly the same function, the only difference is that Rui Shen Oil is in the form of Oil, but China brush was in the form of water , apart from that, both worked for me. Best performance can be achieved, If you apply china brush solution or Rui Shen Oil one or two hours, may be three to four hours and wash before bed.
- Verified Customer
---
It was upsetting to have premature ejaculation, having experienced this PE issue for some time, have used many sprayers, desensitise cream, balm and oil, each one worked differently, but China brush solution works differently, without total de-sensitivity, it helped me to stay longer. When I first used it was little bit of burning for few good 10 to 20 minutes, then I washed thoroughly, over period of time I adjusted to this PE cure solution. I have been using china brush solution for the last one year, due to unavailability of this product I bought Rui Shen Oil, it exactly the same function, the only difference is that Rui Shen Oil is in the form of Oil, but China brush was in the form of water , apart from that, both worked for me. Best performance can be achieved, If you apply china brush solution or Rui Shen Oil one or two hours, may be three to four hours and wash before bed.
- Verified Customer
---

---

Great
- Verified Customer
---
Submit a Review