---
---
Pau Yuen Tong Old Chinese Salf (Balm)
Male Performance Enhancer and Premature ejaculation Cure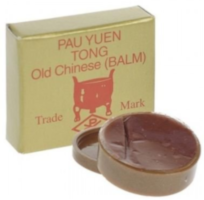 Pau Yuen Tong
Male Performance Enhancer and Premature ejaculation cure
In Stock
£10.50
Product description
Pau Yuen Tong Old Chinese Salf (Balm)

Suitable for all men who suffer from premature ejaculation and want to Enhance Sexual Performance

Direction
Spread a thin layer around the head of the male organ 20 min before.

If woman is not satisfied, apply very thin layer twice at 15 min intervals, do not use more at the same time, we strongly recommend wash thoroughly before relationship.


Caution
Avoid solution from contacting the eyes or mouth. Never apply excessively. Discontinue use if irritation develops. Keep out of reach of children.
Storage
Keep cool and dry place.
Note:
Please do write to us about this product, this will help everyone who has been suffering from Premature Ejaculation and want to Enhance their sexual Performance.
Customer reviews
Old Chinese balm helped me for prolong sexual activity and doesn't desensitise fully, so you enjoy the Sensation along with your wife.
- Verified Customer
---
First time I used Old Chinese Balm, it lasted 3 times longer than normal, partner loved it.
- Verified Customer
---
I bought this from this company after I bought fakes from other sellers. This actually worked a lot and It made me last a long time and my partner felt the difference. One good thing I also like about this is that it does not sting like the ones I bought from a different seller sometime ago. I highly recommend this product.
- Verified Customer
---
Submit a Review