---
---
Maca Men Delay Spray 10ml
Premature ejaculation Delay Spray for Men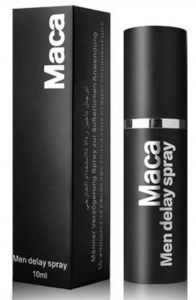 Maca Men Delay Spray 10ml
Premature ejaculation Delay Spray for Men
In Stock
£9.5
Product description
Maca Men Delay Spray 10ml
Premature ejaculation Delay Spray for Men
If you are looking to delay your orgasm, try Maca Delay Spray for Men!, maca Delay spray is odourless and tasteless and works by numbing the sensation that causes men to orgasm.

Maca Men Delay Spray helps to reduce sensations of the penis to help cure premature ejaculation problem and stay longer in sexual activities.

Maca Men Delay Spray is absorbed into the penis head and around the penis neck, resulting in reduced sensation that increases sexual pleasure and prolong sexual intercourse.

It is always advisable to wash penis thoroughly with warm or cold water before sex. Suitable for all men who suffer from premature ejaculation.
Direction
Gently shake the bottle and spray part of the glans (penis head), and penis coronal 20 to 30 minutes before sex.

Start with 1 or 2 sprays and increase to 3 or 4 spray, wait to see how you feel and try increase or reduce depending on your skin sensation, wash before sex.
Main Ingredients
Small molecules of water, 0.2% benzalkonium bromide, butylene glycol, glycerin, cloves.
Caution
Do no spray directly into the urethra.

Wash with warm water before sex.

If you have penis skin ulcers or impotence, please don not use.


Storage
Store Maca Men Delay Spray in a cool and dry place, avoid direct sun light and store away from children.
Specification
10ml
In Stock

£9.5
Customer reviews
Write a review and Get 5% discount.
---
Submit a Review