Mint and Amla Tea
Cooling Refresher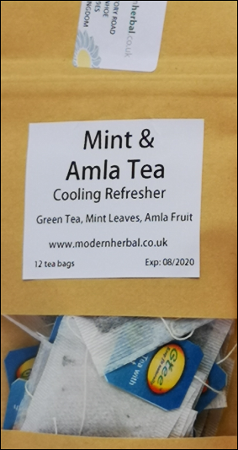 Green Tea, Mint Leaves, Amla Fruit
Mint and Amla - Cooling Refresher
In Stock

6 tea bags

£1.75

12 tea bags

£3.50
Product description
Mint and Amla - Cooling Refresher Tea
Along with the young leaves of Camellia sinensis, Green tea is also infused with the goodness of dehydrated Mint leaves and Amla fruit. While Mint is great for refreshing and relaxing your throat, Amla is one of the best sources of Vitamin C.
Enjoy this beautiful flavoured tea and start your day afresh.
Direction
Place tea bag in a tea cup
Pour 120ml freshly boiled water into the cup
leave it to infuse for 3 to 5 minutes
Serve hot
Enjoy twice a day

Main Ingredients
Green Tea, Mint Leaves, Amla Fruit
Storage
Store in a dry, ventilating place with normal temperature.
Specification
25 Tea Bags of 1.5g each
In Stock

6 tea bags

£1.75

12 tea bags

£3.50
Customer reviews
---
Submit a Review